Scottsdale Spa Updates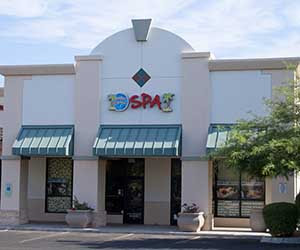 Aloha!
Scottsdale had a great month in October! Our estheticians had training on the new Eminence product line, the Advanced Acne Treatment System. They've been using the products on our guests for the past month and they are seeing great results!
Everybody will be very happy to hear that we have started to get new robes!! Our first batch came in last week and we will continue to get new robes through the end of the year. They feel very soft and our new logo looks great on them!
We are looking forward to a few celebrations in November. First, our massage therapist,
Aubrey
, has been promoted to our Kahuna level of massage therapy! Aubrey has been with us for 6 months now and does an outstanding job. She works Friday – Sunday and is always booked. I highly recommend seeing her if you haven't already.
Our lead esthetician
Linda
had her 2 year anniversary on October 22nd but was out of town so we will be celebrating her this first weekend of November! Linda is a great lead esthetician. She always comes to the spa with a smile on her face and eager to give her guests a great facial! Linda is a fantastic lead and we are very lucky to have her as part of our 'ohana!
Another anniversary that we have this month is for
Giscel
! We will celebrate Giscel's 1st anniversary with us on November 28th. Giscel is one of our spa administrators, very hard working! She's also great with our guests, always professional and super friendly! Giscel always does an amazing job at making sure that our guest's are taken care of!
Mahalo,
Becca